Meet our volunteers – Uzma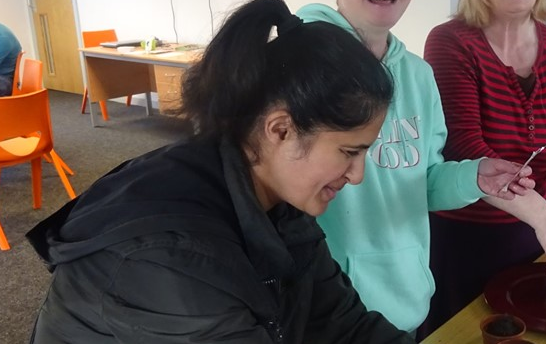 Uzma currently helps in our group sessions supporting many individuals in the projects that we deliver. She also helps out in our regular chill and chat sessions.
Why did you start volunteering?
'Volunteering has opened the doors on what I want to do and what I want to become. It took me out of my comfort zone and built my skills and abilities and meeting a variety of people'.
What did you get out of volunteering (skills, experience)?
'I've learned to use communication efficiently since I have taught people on the courses I helped volunteer. I also found a hidden ability which is counselling which I never thought about. I have developed my listening skills aswell whilst'.
Would you recommend volunteering to anyone?
'Yes, I believe volunteering would be beneficial because it opens the door for many individuals allowing them to try new skills and activities they never have done before. This can lead to them finding their hidden ability and proving to themselves that they can progress in that specific area and not being told what to do by others'.
Where are you now?
'Currently volunteering and working towards my goal which is being a counsellor which Access Ability is currently helping me achieve'.
What are your plans for the future?
'My goal is to go to college to learn about counselling and work towards getting a career in the same sector of what I have achieved'.