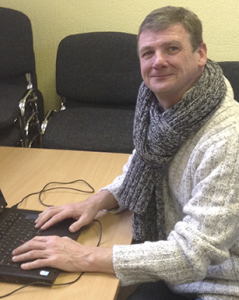 Sean was employed full time for 28 years at Remploy, Burnley. Following the closure of the factory he found himself made redundant and out of work. Sean attended our Connect Project in Burnley every Friday, which provided a regular meeting point for him and 18 of his colleagues.
Before he joined Access Ability…
.. Sean felt he couldn't trust any services after being made redundant. He naturally is of a shy nature and initially felt extremely uncomfortable when meeting new people. He felt that he would never overcome these barriers and would find it difficult to gain employment in the mainstream sector.
Progress he has made…
… during his time at the Connect Project Sean has engaged in a variety of training and leisure opportunities. Which have encouraged him to try new things as well as develop his skills and confidence. Sean is an active member of the Burnley Connect Project and now he has gained paid employment in a customer service role within a National Company. He continues to attend the group to support others as well as keep in regular contact with his ex-colleagues.
Working in collaboration with his Personal Caseworker JCP, has made Sean's transition from being made redundant into paid employment a positive and supported experience.
This partnership working was paramount in Sean's progress and ability to trust and build relationships as well as increasing his self confidence. Without this regular communication, support and enthusiasm this may not have been possible.
Through funding received from the Community Support Fund (CSF) this has supported and enabled Sean to participate in a work placement, specific training,  attend several interviews, access local relevant services and well being activities as well as gain paid employment.
Sean said, "Access Ability provided me with the support and guidance to gain employment in a role that I never thought I would have the confidence to do. I am a more confident and happy person through the support I have received, I am literally buzzing. I now love meeting new people and look forward to my working day."
Please follow and like us: