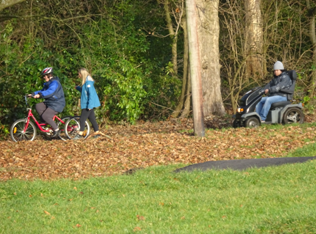 Margaret has recently relocated and is new to the Blackburn with Darwen area. Access Ability first met Margaret when she attended the 10 week 'Healthy Hearts' project held at Audley Learning Centre. Margaret at the beginning was a very timid, limited mobility, unconfident, 'can't do or try that' type of person due to low self esteem. On completion of this course, knowing that Margaret was eligible we felt she would be a suitable candidate to refer to the FSF project.
Progress she has made……
We feel that Margaret's journey so far on the FSF project has had a positive impact, if not the biggest of the group before the break at the Christmas period.                                
Every week Margaret is interested and wants to learn new things. She is always asking questions about the activities, working with others well and up for giving anything a go.
 A number of occasions where she set herself a target to participate but exceed it are as follows:
Confidence building week at Outdoor Elements, Margaret set her limit at a couple of steps up the ladder, but reach the top on both trees. Also the crate stacking team activity she volunteered to be in the harness and reached 13 high.
ICT skills week she just wanted to practice typing skills and adamant that she would not access the internet. The following week on employability skills was browsing the internet with peer support.
Bush Craft and Dry Stone Walling activities weeks actively interested and involved, asking questions when normally would be in the back ground quiet and just observing.
Health and Wellbeing week at Witton Park with BwD Re:Fresh, feeling unsure started the session on a tramper. By the end of the session Margaret tried using a tricycle and did a circular circuit, firstly with support then a final circuit on her own
 Margaret's confidence and self esteem is growing massively which means she is also engaging with other local services, including attending a course at Blackburn College, actively using her bus pass to visit new places, plus attending a weekly walks group.
Please follow and like us: