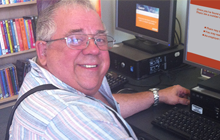 "Attending the weekly job club has given me the confidence and skills required to enable me to work towards setting up a training service. It has also enabled me to keep in contact socially with my ex colleagues."
-Bill, Bolton Job Club
Our learning and skills project provides equal access to non-accredited and accredited training opportunities enabling individual to develop their skills and knowledge which will allow them to make future career choices.
This is delivered by providing training and development sessions on a one to one, small group's basis within accessible community buildings. Our team of experienced tutors deliver specialist training at a pace, level and duration of individual need. This makes all our learning opportunities a positive and inclusive experience, encouraging individual to build on their learning journey.
ICT Skills training – specialist training package to develop the confidence and ability to use a range of different software programmes i.e. safe use of internet, email and word.
Social Media – Our social media training will teach individuals how to use social media sites such as Twitter, Facebook and LinkedIn and how they can be used to help find jobs. We also place emphasis on online safety, showing how to spot possible threats on the internet and how to avoid them.
Speciality Training – We offer a wide range of training, adapted to the need of the individual. Training includes; Sage, BSL, Dragon Speech, Mental Health, Public Health Awareness as well as many others.