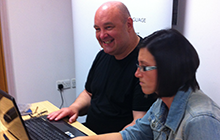 "I found the computer sessions incredibly helpful, whilst I have the ability to tie flies the building of my website was a mystery to me. The training and support provided by Access Ability helped me set up my business and become self employed."  – Dave, Artisan Flies
Our Employment and Enterprise Programme objectives are to raise the aspirations of individuals by exploring and developing their skills through out appropriate specialty training, work placements, volunteering and self employment workshops enabling individuals to make informed career choices towards their employment goals.
This programme helps individuals identify their personal achievements to date and assists in developing their potential to gain employment and be successful in their chosen jobs or voluntary roles.
Access Ability CIC provides specialist in house training packages to support individuals into Employment and Enterprise, these are;
Employability Skills training – The computer based resource supports individuals with CV design, job search, job applications, interview skills and creating a record of achievement. Designed in a way that allows individuals to learn at their own pace and ability with an Employability Skills booklet that supports and enhances this learning.

Self Employment – Access Ability can help individuals with advice and guidance to develop their ideas towards setting up their own business. From initial ideas to running a business, we can help at each stage of the process with advice, training and support.

Work Placements – Working in collaboration with local and National employers we can provide work placement opportunities which develop skills, improve employability and often lead to paid employment.

Volunteering Opportunities – Working with Job Centres and local and National organisations, we can help to identify appropriate volunteer opportunities. These valuable experiences can give individuals additional skills, experience and could lead onto employment.

Communication Skills – Our Employability Skills programme develops individual communication skills, raising individuals confidence in communicating within the group, in work and when meeting new people. Through activities individuals can practice and develop their interview and meeting techniques.