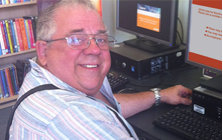 Bill was employed full time for 33 years at Remploy, Bolton. Bill worked as an onsite Health & Safety Officer, Union Representative and a Learning Representative. Following the closure of the factory he found himself made redundant and out of work. Bill joined the Access Ability programme based in Bolton, which takes place at Bolton Central Library every Tuesday, which provides a regular meeting point for her and 15 of her colleagues. Bill is a key member of the group and provides peer support in and out of the session for his colleagues.
Progress he has made….
During his time with the project Bill has engaged in a variety of training sessions including British Sign Language, Mental Health Awareness Training and Emergency First Aid at Work. Bill has also used the time that he has been out of work to 'up skill' himself with the potential of improving employability opportunities for the future. Bill has completed 'Preparing to teach for the Lifelong Sector' (PTLLS L4) as well as e-learning Nuance training in Dragon Speaking Naturally.
Bill realised that he would need to build on this training and increase his potential of being employed in the training sector of mainstream employment, of which he enjoyed this element of his previous working role.
From experiences gain from working at Remploy, Bill's passion soon became that he would like to continue working with disabled people with both physical and learning disabilities through the Dragon Natural Speaking Software and his vast knowledge of Health & Safety in the workplace.
Bill accessed his personal budget managed by the DWP to develop individually to increase employability by gaining the required electronic equipment and additional training qualifications required to become a trainer health & safety sector as well as in the Nuance software.
Through funding received from the Community Support Fund (CSF) Bill has now completed one-to-one sessions on creating business plans and develop a personal budget to progress to Nuance Dragon Speech Training. Bill is currently supporting fellow colleagues from several Northern based Remploy sites with the natural speaking software, health & safety in the workplace and manual handling training with positive results.
Bill said, "Access Ability has provided me with the support and guidance to develop my skills and qualifications over the past 18 months. Attending the weekly job club has given me the confidence and skills required to enable me to work towards setting up a training service. It has also enabled me to keep in contact socially with my ex colleagues."